Why your turned out duck feet are trashing your body

Duck feet is a term used to describe out-toeing (flat turned out feet). In their normal alignment, your feet should be parallel with each other and pointing straight ahead. This may not seem important, but as I have said before, the human body is very much like a house of cards. Bend or remove a card and the whole structure becomes unstable.
Will duck feet cause your knees to explode or prematurely end your life? Does turning the foot out very slightly matter? No, of course not. If however, you stand like the guys in the picture above, you will slowly wear your joints out. It may also impair your sporting performance and increase your likelihood of injury.
This article will explain the effect that out-turned feet have, both on individual joints and your body as a whole. I will also explain why so many of us stand this way and throw in a few of my own ideas on the subject.
As always, I have tried to keep this article as jargon free as possible. Some of it is pretty complex though, I have therefore provided some pictures to help illustrate some of the anatomy.
I believe that the first step to correcting your posture is understanding more about what is actually going on. If you don't know what's going on, how can you fix it?
Ducks are getting a bum rap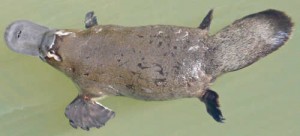 Personally, I think the term duck feet is a bit unfair on ducks. Ducks don't actually have turned out feet. They just have flat feet and legs that are spaced widely apart.
I tried to think of any animal that actually has out-turned feet and really struggled (if you can think of any, let me know). The only one I could think of was the Platypus and its legs are more like flippers anyway.
Therefore, unless you're a Platypus (or have a structural problem), your feet should be parallel with each other and pointing straight ahead.
Ok I am rambling, back on topic…
So I have duck feet, so what?
Many people don't consider duck feet a problem. At first glance it may not seem to be that big a deal. The truth is, out-turned duck feet is the postural equivalent of having a flat tire.
Unfortunately, its also incredibly common.
Next time your strolling around the area you live in, take a look around you. You will notice that a large percentage of the population sit, stand, and walk with a foot or both feet rotated outwards. If it's one foot, its nearly always the right. If its both feet then its nearly always a man.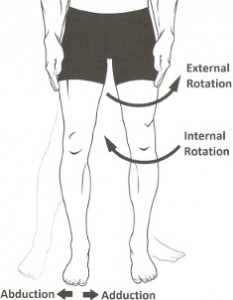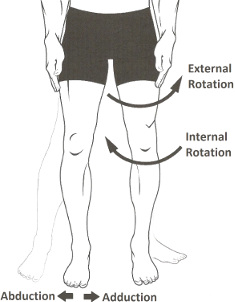 Before we break down what's happening in specific areas, I think it's important to look at the body as a whole. Turning a foot out, causes the arch to collapse slightly. The further the foot turns out, the flatter the foot.
Whenever we walk, run, jump or squat, our bodies work very hard to prevent or decelerate the collapsing in of our leg and foot arch. The problem with an out-turned flat foot is that it makes it harder for our bodies to accomplish this.
As you will read in the sections below. When a flat foot hits the ground, or when the knee internally rotates or adducts to far, bad things happen.
If we look the anatomy of the leg and hip, we can see that the body is put together to help protect us against this.
When our foot hits the ground, our Gluteus Maximus and Medius (bum muscles) work like breaks to decelerate the collapsing inwards of our leg and the flattening of our foot arch.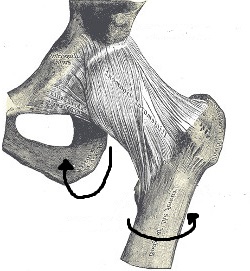 If we look deeper, we can see that the fibre orientation of the hip capsule is designed to help with this. This is complex but, it works like this; when the Glute muscles contract, the femur externally rotates and a posterior rotation force (backwards tilting) is applied to the pelvis. This tightens the hip capsule and draws the head of the Femur deeper into the socket. This increases the stability of the hip joint.
At the knee, we can see that the cruciate ligaments (see section below) are positioned with a similar aim in mind. When the Glute muscles contract, an external rotation force is applied to the upper leg. If the foot is facing straight ahead, then this tightens the knee joint.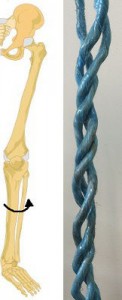 Our bodies also have four muscles at calf level that work to help maintain the arch of our foot (See reduced shock absorption below). The whole system, from foot to hip, works like a tightening rope. Turning the foot outwards loosens the rope, this leads to instability and possible increased wear and tear on the joints.
When it comes to movement, turning the feet out makes it is more difficult for us to recruit the correct muscles. Our bodies therefore, have to rely on other muscles and the elastic structure of our ligaments & joints. After a while these structures get pretty pissed.
From a performance point of view, turning your feet out is also inefficient. It's a bit like driving a car with flat tires and the wheels rotated out. You'll get pretty crappy mile per gallon and the chassis will get wrecked.
The following sections break down the effect that duck feet have on individual areas of the body.
The effect on your ankles and feet
Refused Shock Absorption
The arch of the foot is designed to provide shock absorption when walking, running and jumping.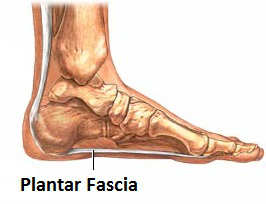 When a foot is flat, the Plantar Fascia becomes lengthened. The Plantar Fascia is a band of connective tissue which helps form the arch of the foot. It works like a bow string connecting the toes to the heel bone. People with flattened arches often suffer with pain on the sole of the foot. If you have ever injured it or suffered from Plantar Fasciitis you will know how incredibly painful it can be.
There are also several muscles that also work to help support the arch of the foot. When the foot is rotated outwards, the arch is flattened. This puts these muscles into a lengthened position. These muscles now also don't have to work as hard as more of the foot is now resting on the ground.
Muscles don't react well to being constantly lengthened and unused. The Tibialis Anterior, Tibialis Posterior, Flexor Hallucis Longus & Flexor Digitorum Longus all become weakened and effectively shut down. Ever felt that pain up the front of your shin when running? It's probably your Tibialis Anterior crying as it tries to cope.
We are now left in a situation where the foot has lost its ability to absorb shock. The shock created when walking, running and jumping is therefore, transferred up through the rest of the body.
Ankle Stability
Turning a foot outwards loosens the ligaments on the outside of the ankle (the lateral ligaments). Ligaments form our joints and help hold our bones together. If you have ever twisted your ankle, you will know where the lateral ligaments live (ouch!).
The fibula is a small long bone that runs up the outside of your shin. The lateral ligaments join the fibula head (your ankle bone) to your foot. When these ligaments become loosened, they effect the alignment and stability of the fibula and ankle.
Moving On Up
The other end of the fibula is connected to the shin bone by the lateral collateral ligament (LCL). The LCL helps stabilise the outside of your knee (see image below). Therefore, standing with your foot rotated outwards, can actually compromise the stability of the ankle and knee.
The effect on your knees
Medial Collateral Ligaments
As I mentioned above, an out turned foot can effect the LCL. The ligaments that provide stability on the inside of the knee (the medial collateral ligaments/MCL) can also be affected.
When the foot is rotated out, the MCL is put under constant tension. If a sudden load is put through the knee in this position, the ligament can tear.
The MCL also attached to the Meniscus which is one of the two horse shoe shaped shock absorbers deep in the knee. The Meniscus also helps the bones in our knee glide properly.
If the MCL is under constant tension is can lead to increased wear and tear of the Meniscus.
Cruciate Ligaments
As mentioned at the beginning of this article. Inside your knee, you have two ligaments called the Anterior and Posterior Cruciate Ligaments. They form a cross deep within the joint which helps to hold your upper and lower leg together thus providing stability.
Remember the tightening rope analogy? Turning your foot out unwinds these ligaments like a rope unwinding. This decreases the stability of the knee joint.
Some sports require people to turn their feet outwards. For example, snowboarders and surfers usually turn one or both feet out. The same is true of some occupations. If you are a soldier you will probably spend a decent part of your life standing in the 'at ease' position. In a lot of countries this means your have to stand with out turned feet.
The instances of anterior cruciate ligament damage in both the examples above is very high indeed. Tearing the cruciate ligament can even be be career ending in some cases.
The effect on your hips and back
Turned Off Glutes
The Gluteal muscles have many roles in relation to movement. In addition to their role as movers, they also play an important stability role. The Gluteal muscles help to stabilise the pelvis, this in turn, helps to protect the lower back.
If you squeeze your buttocks together you may notice your abdominal muscles contract slightly. This happens because, when your Glutes fire up, the rest of your body takes it seriously. The body perceives a load is on it's way and switches your abdominal muscles on to help protect your spine.
During movement, the Gluteal muscles help to prevent/decelerate adduction and internal rotation of your leg. This in turn, helps maintain the arch of the foot. Without this breaking action, everything collapses.
Turning the foot out reduces our ability to recruit our Glutes. Try the following:
Stand up with your feet at hip width and your toes pointing straight ahead. Squeeze your buttocks together and try to pull the floor apart using your big toes (imagine trying to stretch the floor between your feet). Now relax, turn your feet out and squeeze and again. You will notice that its a lot harder to contact your glutes and pull the floor apart with your feet like this.
Shortened Piriformis
The Piriformis is a small muscle that crossed from your sacrum (the triangular bone at the bottom of your spine) to the tip of your femur (the upper leg bone). When you turn your foot outwards, this muscle is put into a shortened position. If you spend enough time in this position, the body decides that this is it's normal resting length. The muscle simply shortens as it is only every required to work within this small range of motion.
As mentioned above, with the foot turned out, the Glutes can't function as effectively. The body therefore has to find other ways to help prevent/decelerate the collapsing in of the knee and foot arch. It accomplishes this by getting Piriformis (amongst others) to help out.
Now, Piriformis is only a little muscle and its not designed to do this. It therefore, gets annoyed  with having to do so much work when its already in a shorten position. The muscle becomes hypertonic (stiffer) and can end up pressing on the Sciatic nerve.
Spinal Alignment & Leg Length
As already mentioned, an externally rotated leg causes the arch of the foot to collapse which effectively shortens the leg. The body now has to compensate for this up through the rest of the system.
If someone has a shorter right leg, their pelvis will tip forward on that side. Often, that side of the pelvis also shifts forward (one side of the pelvis is further forward than the other). This rotates the entire pelvis to the left which can even effect the muscles in the opposite hip.
The Lumbar spine (lower spine) now has to rotate slightly to the right and flex to the left to compensate. Moving on up, the Thoracic spine has to rotate slightly to the left (relative to the Lumbar spine) and flex to the right. This process continues all the way up to the head.
All of this creates an acquired Scoliosis (see here) and can even effect shoulder height.
Identifying the site of rotation
The first step is working out where the rotation is happening. Is the external rotation occurring at the hip or below the knee? Working this out is tricky and will require the aid of a therapist or coach/trainer who knows what to look for.
A Therapist will probably use 'Craig's test' to check the alignment of the head of your femur (The top of your upper leg bone). 'Craig's test' can be useful when trying to identify Femoral Retroversion (see video above). It is possible to perform the test on yourself laying on your front using a mirror. However, performing 'Craig's test' on yourself is pretty tricky and not particularly accurate (believe me I've tried). Therefore, your best bet is to see someone qualified who can perform the test for you.

Once Femoral retroversion has been ruled out, we can check the alignment of the knee. When standing, your knee cap should be roughly in the centre of your leg. If your knee cap is turned out, the rotation is probably occurring at the hip. If the knee cap is in the middle and your foot is still sticking out then its probably happening in the lower leg. When you have worked out which joint is out of alignment, we can identify which muscles are affected.
With this in mind here is a quick break down.
If the problem originates at the hip, the Femur will be externally rotated. The rest of the leg just comes along for the ride and turns out with it. This means the Piriformis will be shortened and over active. The Gluteus Maximus will also be shortened but under active due to the Piriformis doing most of the work. The back of the hip capsule may also be shortened.
When the problem starts below the knee, it's the shin bone that is externally rotated (relative to the Femur). In other words, the leg is tuned out from the knee down. Again, bone abnormalities can be a factor of this (see congenital below). If this has been ruled out, a short/stiff Bicep Femoris (one of the hamstring muscles at the back of the upper leg) can be one of the causes of this. Typically, the muscles on the outside of the shin will also be shortened and the muscles on the inside lengthened.
A limited ankle range of motion can also cause us to turn a foot out. We need a minimum of 10-20° of ankle dorsiflexion (shin moving towards the foot) to be able to walk and run properly. If our calfs get short, or our ankle joints become stiff, then our bodies have to find a way to work around the problem. How do our bodies do this? You guessed it, we turn the foot out and collapse the arch to go around the restriction.
Why do I have turned out feet?
Like many postural problems, flat out-turned feet can be split in to two main categories.
Congenital: Something you were born with.
Acquired: Something that has developed possibly due to; injury, disease or behaviour.
Congenital
All of us are born with flat feet and as children, we usually, also have slightly turned in knees. As we grow, everything slowly tightens up and rotates out. The femur and lower leg externally rotate and the arch of the foot is slowly lifted.
Out-toeing is actually pretty rare in new-borns. Having said that, we can be born with abnormalities such as 'Pes Planus' (flat feet), 'External Tibial Torsion' (twisting outwards of the shin bone) or 'Femoral Retroversion' (a turned out femur). A leg length discrepancy can also cause us to turn a foot out. Problems like these don't always self-correct as we grow.
Some problems can develop as we grow. Most of us get tighter as we get bigger, it's just a normal part of child development. Sometimes though, children grow at such a fast rate that its difficult for their muscles to grow as fast as their bones.
This can lead to problems such as bowing of the shin bones or Osgood Schlatter disease. These conditions can also cause the feet to turn outwards. Technically, I tend to regard these problems as 'Acquired' rather than 'Congenital' as we are not born with them. It just it made sense to include this information in this section to help the article flow a little better.
In any case, a good therapist should be able identify these problems for you.
Acquired
In some cases, the problem may have originally been caused by an injury. If the injury was chronic (it lasted a long time or reoccurred) a person may have compensated and turned their foot to avoid the pain. After the pain has abated, the person may have been left with the compensation (i.e. an out-turned foot).
As already discussed, having out-turned feet puts some of our muscles and ligaments in shortened or lengthen positions. One question I am often asked is, "Did my foot turn out because my 'insert muscle here' is short or did my 'insert muscle here' get short because I turn my foot out?". To be honest, it's a bit like which came first the chicken or the egg, who knows?
In my opinion, most of the time our out-turned feet are the result of our behaviour and life style. If we habitually turn a foot out, our bodies just adapt to the behaviour. Muscles tighten or lengthen and our joints adjust. Eventually this just feel comfortable to us. Turning the foot back where is should ends up just feeling awkward as the position has become alien to us.
A lot of us subconsciously turn our foot out during certain tasks. The following list is based on my own observations.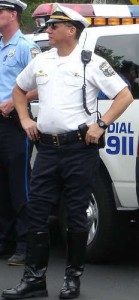 Our Job or Kids: Many of us have jobs that require us to stand for prolonged periods of time (i.e. hairdressers). A lot of us end up shifted our weight on to one leg. Standing in this way actually burns less calories. The strain goes through the IT band and the lateral ligaments and our muscles don't have to work as hard. Humans are pretty lazy creatures. As our stability has now been compromised we often turn a foot outwards to create a kind of false lateral stability. This also often happens when mothers carry a child on one hip.
A Bigger Foot: 80% of us are born with our left foot bigger than our right. Just like the above example, perhaps we shift our weight to the bigger foot as it has a bigger surface area. I don't have any evidence for this it's just an idea that makes sense to me. This may answer the question of why it's usually the right foot that's rotated outwards.
Shoes: As mentioned before, when the calf muscles get short, we tend to turn our feet out. Many people are surprised when I tell them that they are shortening their calf muscles all day due to their type of shoe. Now, I'm not just talking about high heels here.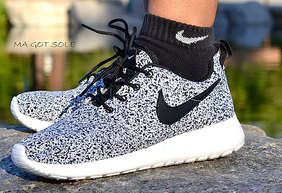 Nearly all modern footwear has a bit of a heel even if it's just ½ an inch or so. Running shoes are particularly bad as the heel can be as much as 1½ inches higher than the toes. Running shoes are designed this way to help reduce shock when we run. However, as I mentioned above under the heading 'Reduced shock absorption' our foot and ankle have muscles that are designed to absorb the shock. Wearing highly supportive shoes or footwear with a heel (no matter how small) leads to weak feet. This again, means we are more likely to turn them out.
Driving: The position of the pedals and shape of the footwell in cars makes it more comfortable to turn the right foot out.
Habit: Crossing our feet when sitting or laying just out of habit.
Social: Simply choosing to turn a foot out when standing or sitting to show people we are relaxed.
Manspreading: This has been in the press quite a lot recently. If you haven't heard of it, it describes that irritating guy who sits with his leg apart thus taking up three seats on the subway.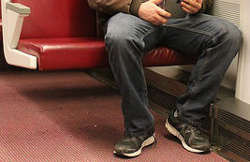 Standing with the feet turned out is the standing equivalent of this. At first glance, many would guess that men turn their hips/feet out out of ego.
"Hey girls! Look how much space I need to create down here.".
For some guys I think this does ring true. Personally though, I think there may be more to it that that. Perhaps men do this to help with temperature regulation of their twig and berries. After all, its all on the outside for a reason.
What can I do about it?
If it's a congenital problem then there honestly isn't a lot you can do about it. Well, not without a hammer chisel and a serious amount of pain killers! You simply have to find a comfortable compromise between ankle, knee and hip alignment.
If the problem is acquired then there is a lot more you can do about it. I am not going to lie, fixing this isn't easy. Firstly, you need to identify your bad habits and quit turning your foot out. Chances are, there is more than one bad habit that has lead to the problem. Don't be a Platypus! Check your foot position when standing, walking sitting and laying. Actually, look down right now and take a look. How's your foot position?
Try to keep both your knee and foot facing forward at all times. Don't rotate your foot in so much that your knee isn't central. Its simply not worth sacrificing your knee to keep your foot straight.
Once you have got rid of the cause, you need clean up the mess that is left over. This can be achieved by working on your mobility and movement. Once its restored it's much easier to maintain a good foot position. As this article is already too long I am not going to go into this here. Search for ankle mobility drills and stretches on the web and you should find an abundance.
In my own case, both of my feet used to stick out. Ditching the expensive running shoes and switching to flat footwear made the biggest difference. I then made a conscious effort to avoid turning them out. That and a bit of Piriformis and lateral calf work pretty much fixed it for me.
As always, if you are concerned about your health and posture, go and get yourself checked out by a professional. If you found this article useful, please throw me a bone and share it with others.